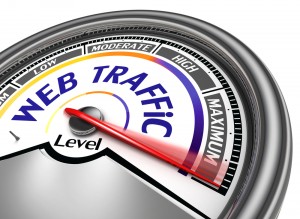 Over the past few years, SEO professionals have seen many updates from Google. This year will no doubt be laced with just as many, if not more challenges, when it comes to obtaining that ever more elusive pot of gold at the end of the rainbow – organic traffic.
Mid-year performance data made public in early September last year from MarketLive, the E-commerce platform, showed paid traffic enjoyed a 30% bump in gains, while organic traffic lost around 3%. When you think about trying to increase web traffic and couple that with the current Google issue of "Keyword Not Provided," it's easy to start worrying about how you're going to be able to generate organic traffic in 2019.
So what can you do about it? Well, one of the best way's for increasing organic website traffic in the coming year, is by sticking with one method that has withstood the test of time: quality, appealing, and winning content that will allow your site to stand out above the crowd. Easy of course if you're one of the few well-established brands or recognised names that has the resources to put fresh content up hourly, but not so easy for the rest of us masses.
So putting the usual speech about content and brand authority to one side, what else can you do if like me you're just the guy on the street? Well, it has to be said that no matter who you are, social signals are now one of the sure-fire ways to assist in those evermore elusive front page spots on Google. Google+ unsurprisingly topping that list, followed closely by all the various popularity flavors of Facebook, such as shares, comments and likes etc. But let's also not forget that many of the social networks like Facebook and Twitter can, even by themselves, be a very generous source of traffic.
What may (or may not) surprise a lot of people though is how relevant backlinks still are. Despite the mass culling of so many backlink types and providers, as well as the critical losses incurred by so many webmasters of small, (and some not so small) businesses. Backlinks are still set to be a strong consideration factor when it comes to ranking in 2019.
Graphic and Data Courtesy of Search Metrics.com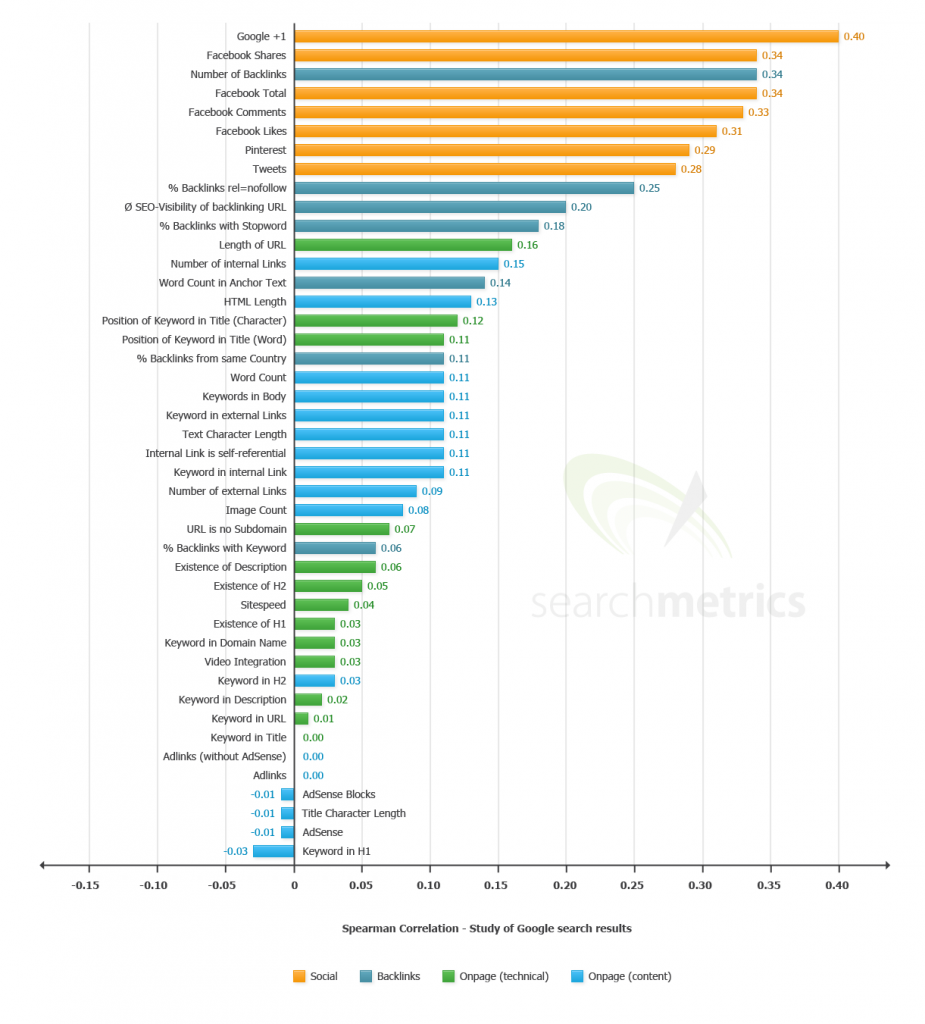 Meaning and Relationships, not Keywords and Tags
Your plan for the coming year will also need to include the "get-to-market" strategy. In other words, the meaning and profundity of your website's message matters more now than the keywords and tags we're so used to focusing our attention on. People are more time-pressed than ever. They're going to bookmark and return to sites that offer high-quality, meaningful, relevant information for their lives. Which means that even when putting the usual speech about brand authority and content to one side, the fact remains that if Organic traffic is still your preferred poison, then depth of content really has never been more important.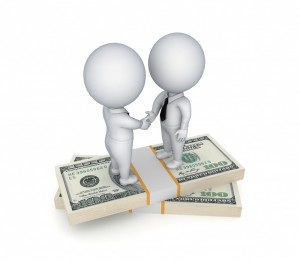 The other prong of your success will be in the relationships you establish. Think for example how a few years back Nestlé's Kit Kat chocolate bars aligned themselves with Google, so that Google could release their Android operating system with the same name. The suits may not have done this to improve their SEO, but both brands profited from the natural traffic outpouring of the partnership. Now, I know what you're thinking, "I can't align with either Google or Nestle." True, you can't. But there likely are existing business contacts, social contacts, or like-minded people / projects that you really could partner or JV with, partnerships that could be seriously beneficial to both parties. More so when the organic search results are filtering out the small guy in favor of more well-established brands, thus forcing the masses to look for new ways to become noticeable again.
Blatant Authority
Today's users are also more and more sophisticated. They've cut their teeth on search engines and can now cull their results through careful application of search terms. They can better evaluate a website and content. With their evolution, the search engines have also kept pace.
So what is the savvy marketer to do? Invest in opportunities that allow you to show the authoritative nature of your brand, product, and site? Google's In-Depth Articles feature is a good tool to help here. It allows users to peruse through the results showing content that is of the highest quality a user can read to learn more about whatever niche it is they have an interest in.
Google's recently expanded authorship markup program will also be useful here, as well as the schema.org article markup program. But pay attention to content, headline, description, and image. Your images have to be both indexable and crawlable to really stand a chance at this. It will of course take much more than this to land you in the In-Depth article vault, but these are a few good pointers that certainly won't hurt you, and why? Because once again, no matter how much we try to get away from it, if you really want that ever elusive pot of organic gold, it all still comes down to producing that high quality content that Google demands for its users.
The Year Ahead…
Like Google's constantly changing algorithm, SEO is also constantly evolving, reinventing itself, and expanding. Those few in the SEO game who are savvy and knowledgeable will stay on top of the trends as they always have. This in turn helps them set themselves up as authorities and remain in that seat. But when all's said and done, if 2018 is anything to go by, then don't expect 2019 to be an easy year, certainly not where organic traffic concerned. However, it can still be a profitable one if you're also willing to look beyond the search results, and more towards Social Media and perhaps even affiliating yourself with a few potentially profitable partners that you maybe you hadn't considered before.
Paul Graham


Paul Graham Online.com

Latest posts by Paul Graham
(see all)